(sports)2
Radical Empathy:
A Continuous Score, Act 12: The Pentathlon
(2021)
Act 12: The Pentathlon, is the latest work in the
Radical Empathy: A Continuous Score
series. It was a live performance at Sockerbruket, Göteborg Sweden, in collaboration with Godisfabriken Konstateljé, October 2021
With the gradual lifting of Covid-19 restrictions, the ability to physically gather in the same space resonated with the aesthetics and conviviality of sporting events, dance parties and singalongs. Act 12: The Pentathlon was made wanting to re-embody a physical togetherness that had been on hold, while acknowledging the continuing uncertainties, frustrations, and struggles - and the importance of joy and playfulness that allows for political persistence and of course, radical empathy.
(from Act 12)

"INTRODUCING…... Public*….Display*…..of Actions*!!!

They are the unchallenged challengers in this first ever attempted post-postmodern pentathlon. A mashup between a sporting event and concept album. Yes fans, hold onto your seats….this will be an unexpected ride.

The 5 part event combines the physical, vocal, mental and emotional skills that are needed by the most vigilent of institutional warriors, the fiercest friends and allies, the expectionally flamboyant fighters and the eternally insistent non norm/white/het/cis others."

The 3 participants in the pentathlon -'The Owl', 'The White Moose' and 'The Crab'- represent a larger team of anthropomorphized Nordic animals that P*D*A* began using as a method to embody, play with and question institutional archetypes. With a nod to radical puppetry, P*D*A* wore giant papiermaché heads/bodies of animals along with matching "uniforms"- a sartorial cut-up between tennis skirt/cycling short/basketball jersey in construction cautionary orange with blue satin accents.
The events in the pentathlon incorporated physical tasks, movements, songs and text that aimed to subvert the idea of traditional competitions.
Events mixed rules, props and forms of professional sports with children's games and singing events. It required collaboration versus competition from the three participants without the end goal to 'win' and at times involved the spectators. Each event began with a letter from the alphabet-cited non-sequentially -from which a verse posed a lens or framework through which the event could be experienced.

"Event F
Get into a fighting position where your opponent is the same size as you
You are standing on a floor that is white fragility
You need to step carefully as you fight the opponent.
Soon you are fatigued by the responsibility.
Fill the space with frustration.

Event J
Jump judgmentally
In a room that judges you
Resist and push away from the judgement that immobilizes us
Jam with your eyes closed

Event B
Breathe - in and expand the stomach
Breathe - out slowly and imagine a balloon slowly being deflated of blindspots
Breathe - in as if your lungs are filled with mucus
Breathe - out through the nose blowing away the borders
Feel the weight of bodies assembling together in your knees

Event W
Do the whipping cream dance
Do the whipping white privilege cream dance
White laughter, White innocence, White curriculum
We all scream for white whipping cream

Event O
Oscillate between privilege and precarity
Your posture is public address"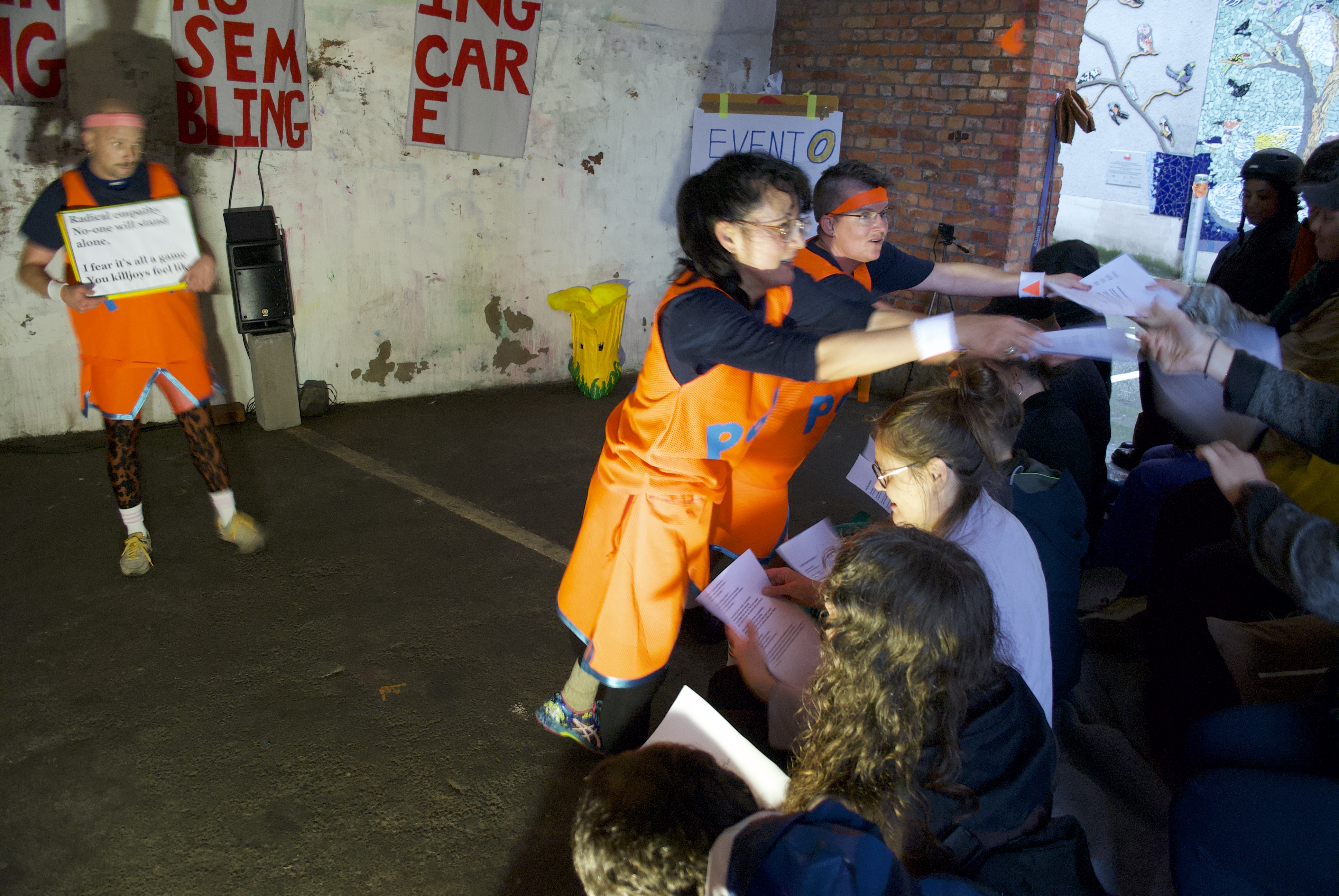 Public* Display* of Actions*
---